It is always productive to buy an email database.
You will find the following difficulties when you will try to build the email database at your end.
Where to Start
You are purchasing the email database since you don't know where to start to get the email database, where to find the your potential customer to grow your business.
Target Audience
You will get the data for that particular country but finding the data for very target specific category which will belong to your business is difficult to get.
Authentic and Verified Data
Even if you will find the email data but those emails would be genuine and not bogus and it should not be the case that the emails will not valid anymore or something like that. So verify this data at your end is also a challenge.
Cost
Cost is important factor, even if you will get the authentic and verified data but the overall cost of finding and verification process will not cost you more then purchasing.
Time
Finding and verification of the email database at your own is a time-consuming process, so it will be better to get the data from realizable sources and save your precious time.
So it is better to do the hard job done by the WholeDatabase team and you can focus on your main business.
The similar problem other customers have faced while searching the email database and then they found out the about wholedatabase's authentic and genuine source of email database which has counties specific data and for any particular country we have specific category wise data with the reasonable price.
We also provide the many other attributes of the source of each email address, so that we can verify the data at any time. We know that you cannot cross check each and every record but at-least that give you an assurance about your database that it will be genuine and authentic.
Because nobody wants such emails list on when they tried to send emails and get the bounce back message saying that these email IDs do not exist or invalid domain messages.
WholeDatabase.com have the separate process of data gathering and verification which provide a quality email list to their customer.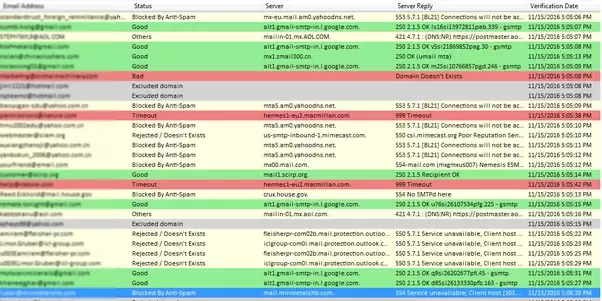 So in the end, you will have a good list of valid email id of target specific audience for your business and the best part is these email list's cost are very reasonable and within the budget.
Target Specific & Verified Database 
Key Benefits of getting Email Database from WholeDatabase.
Target Specific Result
You will get the database which will have the emails based on your business and provide your targeted audience.
Verified Data
The Database would be genuine, means the data will be not bogus or it will not be the case where the emails will not valid anymore or something like that.
In your Budget
The cost of the database will be reasonable.
Other Benefits of getting Email Database from WholeDatabase
1. Email lists are cost-effective and compare its prices with the prices of other vendors in the market.
2. High-Profit Margins.
3. Access to most reliable, authentic and result-oriented data.
4. Access to up to date email listings to support your email marketing campaigns.
5. Keep updated consistently to map the listing status.
6. At WholeDatabase, marketers have the opportunity to reach the right set of people with the right kind of resources.
7. Be it any Industry, Geographical Location or Business our corporate database includes every minute details which can help you place your brand in the right manner to the audiences.
8. Their verified list can be utilized in any form of multi-channel promotions which you have in mind.
9. The databases undergo extreme scrutiny and updates regularly to give you more precise details.
What you are waiting for?
Get started with WholeDatabase
Instantly access over millions of data records...!!
WholeDatabase © 2023 All right reserved